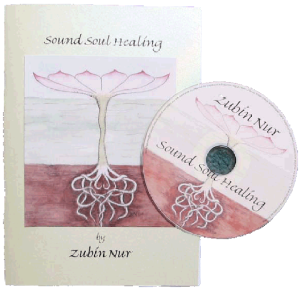 This will be a recording of Mantra singing with overtones as done during a Sound Soul Healing Session. Though the mantras again are thousands of years old, the melodies ´come´ to Zubin, and that is what she sings though it is not unknown for these ´new´ melodies to be very similar to the traditional ones. There is an attunement in the akashas. Others CD´s in the planning are Universal Worship, and and Praising the One. Zikrs and other melodies.
For more information about Sound Soul Healing please click here
~ A Sacred Mantric Journey
into the Healing and
Transformation
of the Divine Feminine ~
by ZubinNur
Download het boekje behorende bij de Sound Soul Healing CD
This music is a recording of a Sound Soul Healing session. The mantras are full of blessing and have been used in India for Praise, Enlightenment and Healing for more than 5,000 years. The melodies are not originally from India but came to me as the mantras came alive in my heart.
Merged in the One
The Unity of All in All
Merged in embodied Oneness
The Unity of body, mind and heart,
Merged in the One,
that ever was,
that ever is,
that ever will be
Without distinction or separation
Merged in the One.
To read more of the notes on Sound Soul Healing and the instructions for use please, retrun to the top of the page and download the booklet. ENJOY. It is also possible to make an appointment for a personal Sound Soul Healing Session and ZubinNur will sing the mantras with overtones for you. A session still only costs €101- Send me an email if you would like to make an appointment.